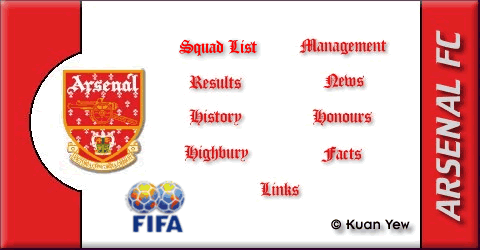 [Arsenal FC] [Squad List] [Latest Results] [Club History] [Highbury] [Management] [Latest News] [Club Honours] [Club Facts] [AFC Links]

MAIN CLUB NUMBERS
Club Telephone
0171 704 4000
Club Fax
0171 704 4001
Box Office Numbers (Dial-A-Seat)
0171 413 3366
Recorded Information
0171 704 4242
Enquiries
0171 704 4040
COMMERCIAL & MARKETING DEPARTMENT
Telephone
0171 704 4100
Fax
0171 704 4101
ARSENAL MERCHANDISE
The Gunners Shop
0171 704 4120
Arsenal World of Sport
0171 272 1000
Arsenal Mail Order (Telephone)
0171 354 8397
Arsenal Mail Order (Fax)
0171 354 9552
JUNIOR GUNNERS
Telephone
0171 704 4160
CANNON CLUB
Telephone
0171 704 4160
ARSENAL TRAVEL CLUB
Telephone
0171 704 4150
ARSENAL SPORTS CENTRE
Telephone
0171 704 4140
ARSENAL CLUBCALL
Commentaries, Interviews & News
0891 202020
Ticket Information & Prizeline
0891 202021

Did You Know That.....?

Arsenal FC's biggest win and worst defeat were against the same team. Back in 1896 the Gunners were thrashed 8-0 by Loughborough Town in a Division Two game. Just four years later, however, they got more than their own back by piling 12 goals past the Town goalkeeper without reply.
Arsenal FC are nicknamed the Gunners because of their old connections with the Royal Arsenal, an important munitions factory in the late 1800s and early 1900s.
Of all the current Premiership clubs, Arsenal FC have spent the longest unbroken run in the top flight. The Gunners have occupied the top division every year since 1919, a record run of 78 years.
Ian Wright has scored more goals for Arsenal FC, after beating Cliff Bastin's record of 178 goals. Ted Drake, however, notched up the most in one season, hitting 42 in the 1933/34 campaign.
Former skipper Kenny Sansom has won more international caps than any other player. The steady left-back appeared for England on no fewer than 86 occasions between 1979 and 1988.
Irish central defender David O'Leary, hold the record for the most appearences. He played an incredible 558 games for the club between 1975-93.
In the summer of 1999, Arsenal FC forked out a staggering 10.5 million pounds to Juventus for French international winger Thierry Henry.
In 1935 Arsenal FC became only the second side ever to win the First Division title three years in succession.
The club's greatest moment came in 1971 when they became only the second team this century to win the League and FA Cup double.
Arsenal FC became the second team besides Manchester United to record a 'Double Double' in the 1997/98 season.
At 7,180 square yards Arsenal FC's pitch is the smallest in London and shares the title of smallest league pitch in England with Colchester,Preston and Scunthorpe.
A workman's horse, which died in an accident during construction of Arsenal FC's Highbury Stadium, was buried there and then under what is now the North Bank stand. It is said to bring the club good luck. The corridors of the stadium are also said to be haunted by the ghost of former manager, Herbert Chapman.
The worst point in the club's history was their relegation in 1913 - they only managed 1 home win all season, which is an all-time record.

This Page Is Published And Maintained By Wong Kuan Yew
Copyright © 2000 Wong Kuan Yew. All Rights Reserved.
Last Updated: