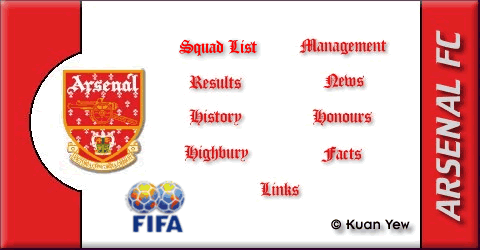 [Arsenal FC] [Squad List] [Latest Results] [Club History] [Highbury] [Management] [Latest News] [Club Honours] [Club Facts] [AFC Links]

1948 Two years after WW2, the Championship returns home

The 1947-8 season saw astonishing crowds of up to 27,000 turn out at Highbury for reserve games!! The Saturday before Christmas has traditionally been recongised as the lowest spot of attendance due to Christmas shopping, not so in 1947 when more than 58,000 flocked to Roker Park to watch Arsenal draw 1-1 with Bryn Jones scoring our late equalizer with only ten minutes remaining. The phenomenal attendances throughout the season turned around the financial difficulties which Arsenal faced prior to the outbreak of the war. In our Valentines' Day fixture against Burnley, over 20,000 people arrived too late to get into the ground, and a mounted policeman had to maintain order in the streets around Highbury.

Arsenal started the season brightly with an unbeaten run of 17 games (the first 6 victories was the best ever start to a season by Arsenal). Ronnie Rooke finished top scorer for the season with 33 goals. The final table for 1947/8 was:

Champions
P
W
D
L
F
A
PTS
Arsenal
42
23
13
6
81
32
59
1950 Arsenal WIN the F.A. Cup Final for the third time
A little known fact about the 1949-50 season was that Liverpool had beaten Arsenal in both their previous league meetings 2-1 at Highbury and 2-0 at Anfield. Fortunately, both those defeats served as a catalyst and the only time we beat Liverpool in that season was written into the history books.

On April 29th 1950 Arsenal beat Liverpool 2-0 in the F.A. Cup Final. There was a strip change for both teams who were more familiar with their usual red shirts, with Arsenal playing in their now famous gold shirts while Liverpool opted for white shirts with black shorts.

Tom Whittaker had to make a difficult decision before the game, as aging goalscorer Lewis had been dropped a few times because he was lazy and lethargic, yet he was undoubtably a great goal scorer. Whittaker decided to stick to Lewis, and his decision paid off more than he could imagined. Lewis scored in the 17th minute of both halves to bring the Cup back to London again. Talk about repaying the manager's faith!

The Road to the Third F.A. Cup
OPPOSITION
ROUND
VENUE
SCORE
SCORERS
Sheffield Wednesday
3RD
Home
1-0
Lewis
Swansea Town
4TH
Home
2-1
Barnes, Logie
Burnley
5TH
Home
2-0
Compton D, Lewis
Leeds United
6TH
Home
1-0
Lewis
Chelsea
SF
Tottenham
2-2
Compton L, Cox
Chelsea
(R)
Tottenham
1-0
Cox
Liverpool
FINAL
Wembley
2-0
Lewis(2)
1953 Arsenal WIN the Championship by the skin of their teeth!!
A 3-1 victory at White Hart Lane combined with a 4-0 victory at Highbury meant that Tottenham was at the receiving end of the wonderful taste of Arsenal's firepower on their way to another Championship. Once again, the First Division League Championship was on its way to the hollowed grounds of Highbury. This time however, outright victory was not a certainty as a goal average count was needed to finally separate us from Preston North End.

With just two games to go, Arsenal lost 2-0 to Preston at Deepdale. The two teams were tied on 52 points. Preston won against bottom club Derby in midweek which took them to 54 points. Therefore, Arsenal's last game of the season against Burnley (in the top 6) became vitally important. A capacity crowd at Highbury knew that an outright win might not be good enough. Just three minutes into the game, Joe Mercer scored an own goal. Terror struck the hearts of the Gunners faithful! Arsenal decided that the best form of defence was offence, and proceeded with goals from Logie, Forbes and Lishman ensuring a hard-earned victory. Burnley cut the deficit to one in the second half, but thankfully it wasn't enough. The final standings had Arsenal winning by a difference of 0.099 of a goal as they finished with a goal average of 1.516 compared to the 1.417 that Preston had.

The final table also shows that Arsenal conceded 64 goals (the most goals ever conceded on the way to a Championship) and yet the title still came south!

Champions
P
W
D
L
F
A
PTS
Arsenal
42
21
12
9
97
64
54
1963 Arsenal enter European competition with a BANG!!
On September 25th 1963 Arsenal met Staevnet (Denmark) in the away leg of the Inter-Cities Fair Cup (the predecessor of the current UEFA Cup). Hat-tricks from Baker , Strong and a solo goal by MacLeod ensured that Arsenal were triumphant 7-1. The FIRST European competition game Arsenal faced was extremely successful. Unfortunately, Arsenal were defeated in the following round by RFC Liege (Belgium).
1966 Arsenal support hits rock bottom

A rearranged fixture against Leeds United on May 5th 1966, was clashed with the European Cup Winners Cup Final where Liverpool was facing Borussia Dortmund. Since Arsenal had a dismal league season, you might get a clearer picture of reason for apathy. The fixture attracted only 4,544 spectators the lowest since the First World War. Amazingly, Leeds United were 2nd in the League at the time. The missing spectators could count themselves lucky, as Arsenal lost 3-0. A victory two days later against Leicester City elevated Arsenal to 14th place, Arsenal's lowest League placing since 1930!
1966 Bertie Mee takes over Arsenal as Manager

While the media argued over which highly paid and highly visible manager would be drawn to the marble halls of Highbury, the Arsenal Board of Directors once again appointed a man from within the club. They sacked Billy Wright and appointed Bertie Mee. Unusually, Mee had actually asked for a get-out clause in his contract, which stated if he was not successful after 12 months, that he be allowed to revert to his former position of team physio, and Chairman Denis Hill-Wood agreed.
1970 Arsenal WIN the Inter-Cities Fairs Cup!

The 1969-70 Season was one of those season where everything seems to go wrong for Arsenal, their final league position of 12th, combined with an early exit from the League Cup in the 3rd round against Everton and a defeat to lowly Blackpool in the opening round of the F.A. Cup were proof of the fact. Still, there was a postive effect to those disastrous performance. 3 players made their first team debut during this season, Charlie George made his in the opening game of the season against Everton (0-1), Ray Kennedy tasted first team action against Glentoran in September (0-1) and finally, Eddie Kelly also played his first game in September against Sheffield Wednesday (0-0). Bertie Mee together with Don Howe had their sights firmly set on SUCCESS.

The first one came on April 28th 1970 when Arsenal lifted their first European trophy, the "Inter- Cities Fairs Cup" (the predecessor of the current UEFA Cup). The road to this success however was tumultous to say the least. Arsenal have become renowned for doing things the hard way, and their Semi-Final opponents Ajax were recognized as the best team of the 60's. Ajax included a plethora of stars such as the likes of Johan Cruyff, Rudi Krol, Piet Keizer and Gerrit Muhren. Arsenal took to the big occasion with ardor, and goals from George and Sammels secured a 3-0 home victory. In the return leg, Arsenal kept their cool against Ajax and won 1-0 , setting up a memorable Final against Anderlecht.

Apparently the first leg against Anderlecht was awesome for the home side, they were so impressive and marched to a 3-0 lead. A third defeat in a major final in three seasons was in sight. Still, with the time ticking away, Ray Kennedy replaced a tiring Charlie George, and managed to beat Anderlecht's goalkeeper Trappeniers with a header. The final score of 1-3 was no disgrace, it meant that there was a mountain to climb at Highbury, but, Arsenal had an all important away goal tucked away. They had to keep Anderlecht goalless in the return and also to win by a margin of 2 goals. The Anderlecht side had Mulder and van Himst which were special players. But defensively, they looked vulnerable whenever Arsenal managed to attack. They had a poor centre-half. Frank McLintock had the final word, " I believe we can do it!"

In the return leg, Arsenal attacked Anderlecht with venom, a stunning early shot by Kelly brought the crowd to their feet and Arsenal's first goal, The Cup was now within reach. McLintock's words of wisdom came true when Radford headed in Arsenal's second. They were now ahead based on the away goals rule, but were not allowed to relax as Mulder hit a post. 51,000 spectators anxiously watched on as Sammels provided Arsenal's third. The final whistle eventually sounded, and the Arsenal spectators flooded onto the pitch, the elation of a European Final victory spread across Highbury. Seventeen barren years without a trophy had been vanquished. It was the most remarkable comeback of all-time in a European Cup Final. As usual, Arsenal left it late to do the job.

The Road to the Inter Cities Fairs Cup
OPPOSITION
ROUND
VENUE
SCORE
SCORERS
Glentoran
1ST
Home
3-0
Graham(2), Gould
Glentoran
1ST
Away
0-1
Sp Cb de Port
2ND
Away
0-0
Sp Cb de Port
2ND
Home
3-0
Graham(2), Radford
Rouen
3RD
Away
0-0
Rouen
3RD
Home
1-0
Sammels
Dynamo Bacau
4TH
Away
2-0
Sammels, Radford
Dynamo Bacau
4TH
Home
7-1
Sammels(2), Radford(2),
George(2), Graham
Ajax
SF
Home
3-0
George(2), Sammels
Ajax
SF
Away
1-0
Cox
Anderlecht
FINAL
Anderlecht
1-3
Kennedy
Anderlecht
FINAL
Highbury
3-0
Sammels, Radford, Kelly
1971 THE DOUBLE!!
SEASON STATISTICS
1970-71 brought Arsenal their 8th Football League Championship and their 4th F.A. Cup in what is recognized as the most successful season in their history. Indeed, they were unluckily defeated on the away goals rule in the quarter finals of the European Fairs Cup in a 0-1 away defeat at FC Koln! The season began (with a touch or irony) at the home of the defending champions Everton. That game almost encapsulated Arsenal's season in a mere 90 minutes. They struggled, fell behind, coped with adversity and then, finally came through in the end.... Everton opened the scoring approaching the half hour after dominated the game. Arsenal however didn't let their heads drop, and nineteen minuted from time, Charlie George scored the equalizer, but, while scoring the goal, he cracked two bones in his ankle. The familiar pattern resumed, and Everton took control of the game once again. With only 6 minutes left, they scored their second in controversial circumstances (claims of handball which were later confirmed by the scorer Ball). Still, this Arsenal team had character. With seconds remaining George Graham scored the equalizer, and then watched as moments later after the restart he could only hold his head in his hands as he watched another effort rebound off the Everton bar.

Season highlights included a 6-2 home win against West Bromwich Albion (Kennedy 2, Graham 2, Armstrong, own goal), a 4-0 home victory against Manchester United (Radford 3, Graham) and a 3-1 away victory against them (Kennedy, Graham, McLintock), a 4-0 home win against Nottingham Forest (Kennedy 3, Armstrong), a 4-0 home win against Everton (Kennedy 2, Storey, Kelly). The only hic-cup was a 0-5 thrashing at the hands of Stoke City on the 26th September 1970.... Still, Arsenal were to exact their revenge on Stoke in the Semi-Finals of the F.A. Cup!

In true Arsenal fashion, the League season came down to the final game of the season after Leeds United had amassed 64 points for the season while Arsenal had only 63 . With a wonderful sense of occasion the last fixture was against Tottenham Hotspur, at White Hart Lane. The game had been originally scheduled for the day of the F.A. Cup Semi-Finals and now was rearranged for the Monday night before the Cup Final. If Leeds had the chance to select the fixture to deprive Arsenal of the title it would surely be this one. Local rivalry alone would be enough to ensure maximum effort from the opposition, but Spurs were also fighting for a high league placing to ensure a European place, and handsome player bonuses. The mathematical permutations were also remarkable. A win would give the title to Arsenal, a defeat would give it to Leeds, while a scoreless draw would give the title to Arsenal, but a scoring draw would give it to Leeds.....(ahhh, the joys of goal average!). Alan Mullery (Tottenham's captain) reinforced the belief that it would be a mighty clash: "Arsenal have got as much chance of being handed the title by Spurs as I have of being handed the crown jewels.

The players lunched at their own homes before reconvening at the South Herts Golf Club, the regular pre-match meeting place at 4:30pm. Already the football fans of North London were on the march towards White Hart Lane. The gates were locked more than an hour before kick off with 51,192 lucky spectators inside. Twice that number were left on the outside. The volume of traffic even surprised the police. Berty Mee recalled: "We gave ourselves an hour for a drive which normally takes 20 minutes. But even then it was a very difficult journey. I have never seen scenes like it. Seeing those crowds increased the sense of occasion for us. There was no way we were going to be beaten." The referee, Kevin Howley, had to abandon his car a mile away to fight his way on foot through the crowds.

The crowd pulsated as the game began. McLintock had his hands full coping with Martin Chivers, while at the other end Charlie George, George Graham and John Radford all came close. For all the energy imparted into the match by both teams, a goalless draw beckoned. But three minutes from time, Kinnear tried to dribble clear of trouble inside his own penalty area. George recaptured the ball from the Spurs right back, and twisted instantly to conjure a cross from an angle which would have defeated most players. Even then it seemed as though Arsenal had been denied. Jennings made the save of the night as Radford met the ball provided to cleverly by George. Tottenham stopped to a man, perhaps in admiration of their goalkeeper, but also because they expected the ball to run behind for a corner. Armstrong had barely stood still all season, and was not going to break the habit now. Rescuing it from near the goalline his chip back across the goal was met by Kennedy's soaring header. The ball sped high to Jennings' left, above the leap of Cyril Knowles behind him. It clipped the underside of the bar and was over the line.

The goal was greeted by an explosion of sound and instant exhilaration from every Arsenal player. When Kevin Howley blew the whistle three minutes later bedlam reigned on the pitch as thousands of fans raced to congratulate their heroes. Players had their shirts ripped off, Bob Wilson actually ended up hugging the referee and the other players were marooned in a sea of spectators. Arsenal had won a record (at the time) 8th League Championship title, and Leeds United had finished second with 64 points, the highest points total achieved by a team NOT to win a championship (at the time). The first part of our historic DOUBLE had been secured, the second part was to provide just as much excitement.....

Double Champions
P
W
D
L
F
A
PTS
Arsenal
42
29
7
6
71
29
65
As I said, Arsenal like to do things the hard way, and the Football Association true to form decided that Arsenal's name should not come out of the hat first in any of the preliminary rounds of the F.A. Cup. So, Arsenal faced away games in all rounds up to the semi-final and final which of course are both played on neutral grounds...

Our F.A. Cup run opened on the sloping pitch at Yeovil Town. Goals from John Radford (2) and Ray Kennedy saw us safely through to the 4th round and a meeting with Portsmouth. Arsenal secured a 1-1 draw (Storey) and won the home replay 3-2 with goals from Storey, Simpson and George. The 5th round saw us dispose of Manchester City, and the six Leicester City (once again needing a replay). It was the Semi-Final against Stoke City that showed what Arsenal were made of, it was Arsenal's moment of truth. All cup winning teams have one match where luck plays it's part, where they come through a game that they could or even should have lost. This was Arsenal's. Quite simply, Arsenal looked as though they had stumbled at the penultimate hurdle. Certainly, our players were at times tentative to the point of distraction in the first half, and the players left the field after 45 minutes trailing by 0-2. After 20 minutes Wilson conceded a corner by pushing behind a teasing cross from Greenhoff. Arsenal did not deal with the corner conclusively , and as Storey booted the ball away, it inexplicably stuck Denis Smith and flew into the Arsenal net. Then, after 29 minutes, Charlie George made a dreadful mistake as he underhit a back-pass to Bob Wilson. Ritchie pounced, getting to the ball before Wilson, and Arsenal were 2-0 in arrears.

Early in the second half Armstrong fed Kennedy, whose chip into the middle caused confusion in the Stoke ranks. Storey unleased an instinctive drive from 20 yards and even Gordon Banks (who had been so heroic earlier) could do nothing. Stoke however weren't going to lie down, they continued to threaten with Greenhoff in particular causing us lots of problems. Infact, he failed to score a couple of times when on any less crucial occasion he would have been celebrating scoring. Arsenal however didn't give up. Two minutes of injury time were added for an injury to Charlie George, and it was in these tow minutes at the end of the game that Arsenal salvaged there appointment with history. Arsenal took a corner from their right, and this time Banks was nowhere. McLintock , a rescuing figure yet again, steered his header towards the left hand post , where only the hands of John Mahoney prevented a goal. Referee Partridge was perfectly placed to award the penalty. Storey realized the enormity of his task. "The rest of the lads were all hugging eachother as though we had scored. But I was the one who had to stick it in. And past Gordon Banks too!" At the other end of the ground, Wilson dropped to his knees in prayer. It was one of those moments when the world stops. Had Storey missed, his name like Rix's (1980 Cup Winners Cup Final) would have been engraved in our memories forever for less than favorable reasons. But, Peter Storey ran up, and sent his shot low, placed with the inside of his right foot to Banks left. Stoke City 2 Arsenal 2!!! A trip to Wembley on May 8th 1971 against Liverpool would now become one of the best remembered days in the history of Arsenal Football Club.

The 1971 F.A. Cup Final will not be remembered for it's scintillating open attacking style or flair. Whilst it wasn't a dour game, it wasn't the most exciting either. Both teams had their chances during normal time to win the game with Arsenal probably coming the closest, yet neither team scored, and extra time beckoned. It took only 2 minutes of added time before the deadlock was broken. Steve Highway (bastard) had rarely freed himself from the shackles imposed on the Arsenal right, but suddenly slipped past Rice and Armstrong and from a tight angle cut in from the left. Wilson automatically took up a position covering his near post. Wilson must have thought that Highway was going to pull the ball across the goal, because he left a gap on his near post that Highway punished him for with a sizzling shot 0-1. Don Howe pulled George Wright over, and told him to pass a message to George Graham telling him to push forward in attack. With just four minutes left in the first half of extra time the move paid dividends. Radford hooked the ball over his shoulder into a crowded Liverpool penalty area. The ball fell for Eddie Kelly , who simply touched it forward. It certainly could never be called a serious shot. The ball rolled between George Graham's legs as he swung to shoot, and Clemence could do nothing to stop it going into the net. This goal is still hotly disputed today. Some people say that Kelly scored, while others remain steadfast in their belief that it was indeed George Graham who added the final touch. Well, I have seen quite a few angles, and the best was from London Weekend Television who had a camera behind the goal. It clearly shows that while George Graham did indeed take a swipe at the ball, it passed through his legs without a touch! Eddie Kelly scored that vital goal for the gunners. There is less controversy about the goal that clinched the DOUBLE for Arsenal.

With 111 minutes of the F.A. Cup Final played, Charlie George interpassed with the magnificent Radford before letting fly from 20 yards with a right foot shot with belied his weary appearance. The force of the shot flew over Ray Clemance's outstretched arm as he dived to his right. George jumped into the air with arms held high, fell to the floor, and lay down in the now familiar scene as he was converged upon by jubilant team-mates. The emotion was so consuming on that day, that even the referee dropped to his knees as he blew the final whistle and North London began to celebrate.

A quarter of a million people lined the streets from Highbury to Islington Town Hall the following day as both trophies were displayed by the team from an open-top bus. On their arrival, Arsenal Football Club were awarded the freedom of the Borough of Islington. An unforgettable season was complete.

The Road to the Fourth F.A. Cup
OPPOSITION
ROUND
VENUE
SCORE
SCORERS
Yeovil Town
3RD
Away
3-0
Radford(2), Kennedy
Portsmouth
4TH
Away
1-1
Storey
Portsmouth
(R)
Home
3-2
Storey, Simpson, George
Manchester City
5TH
Away
2-1
George(2)
Leicester City
6TH
Away
0-0
Leicester City
(R)
Home
1-0
George
Stoke City
SF
Hillsborough
2-2
Storey(2)
Stoke City
(R)
Birmingham
2-0
Graham, Kennedy
Liverpool
FINAL
Wembley
2-1
George, Kelly(2)

This Page Is Published And Maintained By Wong Kuan Yew
Copyright © 2000 Wong Kuan Yew. All Rights Reserved.
Last Updated: