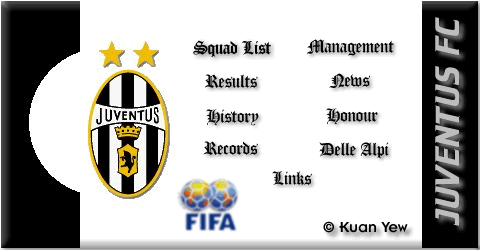 [Juventus FC] [Squad List] [Latest Results] [Club History] [Club Records] [Management] [Latest News] [Club Honours] [Delle Alpi] [JFC Links]
&nbsp &nbsp This is my personal tribute to the best team in the world -- Juventus FC. I have been an avid supporter of Juventus FC since the year 1990. This means that I've been supporting the club for 10 years already. My affection for the club started when Roberto Baggio ( my favourite player ) moved from Fiorentina to Juventus FC in the year 1990.
&nbsp &nbsp Although AC Milan was the powerhouse soccer team in Italy during the early nineties, Juventus FC is the soccer supremo now. A few former players of Juventus FC are now superstars in their own right, thanks to their achievements with Juventus FC, these players are : Vialli, Ravanelli, Boksic and Vieri. Even though they have left the team, the current team is still the best with the likes of : Zidane, Inzaghi and Del Piero. Juventus FC looked set to dominate the European footballing scene for a few more years.
&nbsp &nbsp For this season, hopes are high after last season's final day defeat. I think that Juventus could win the league this season and maybe they could also bring home the much coveted Champions Cup.
&nbsp &nbsp This poem, written by yours truly is dedicated to Juventus and all the 'Grand Old Lady' fans out there :
Juventus FC is the best team in the world,
Their flashy skills are a sight to behold,
Of all the colours in the sky,
Black and white are the ones that caught my eye.

Juventus FC is the one for me,
I'll follow them to victory,
When Zambrotta and Zidane starts running around,
The opposition will surely go down
With Del Piero and Inzaghi getting the goals,
Turin is the place where the Champions Cup will go.

The Serie A is within their sights,
There's no end to their might,
We'll win it for a few more years,
On that you can be really sure !
--Kuan Yew--
&nbsp &nbsp If you are a fan of Juventus FC and would like to know about the recent updates on my website, just drop a line at kuan_yew@yahoo.com or champion80@hotmail.com. Your views and opinions on my website are most welcome.
This Page Is Published And Maintained By Wong Kuan Yew
Copyright © 2000 Wong Kuan Yew. All Rights Reserved.
Last Updated: