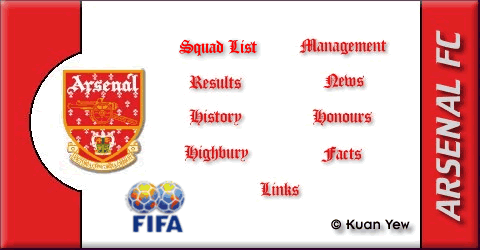 [Arsenal FC] [Squad List] [Latest Results] [Club History] [Highbury] [Management] [Latest News] [Club Honours] [Club Facts] [AFC Links]

&nbsp &nbsp Welcome to my personal tribute to the best London team -- Arsenal FC. I have been a die-hard supporter of Arsenal FC for the past 10 years. My affection for the team started on the same year that I became active in soccer, which was back in 1990. Arsenal FC had just previously won another League title (1989) and looked like a force to be reckoned with.
&nbsp &nbsp Little did I know after supporting Arsenal FC, the club went on to win the FA Cup (1993), League Cup (1993) and the European Cup Winners Cup (1991) under then manager : George Graham, a former Arsenal player. Now currently at our local rivals, Tottenham Hotspurs.
&nbsp &nbsp Now, under the current manager : Arsene Wenger, the club's first non-British manager, Arsenal FC looked set to challenge Manchester United's stranglehold on the Premier League title. The first achievement of Wenger was winning the "Double,Double" in 1998, and signing several influential players like : Emmanuel Petit, Patrick Vieira, Fredrik Ljungberg and Nwankwo Kanu to name a few.
&nbsp &nbsp I'm very optimistic about Arsenal's chances this season, I'm hoping we could win the Premier League title and also the Champions Cup.
&nbsp &nbsp This poem, written by yours truly is dedicated to Arsenal and all the Gunners' fans out there :
Arsenal FC is the club I love,
If you ask me they're a few steps above,
Henry and Bergkamp at the front,
Pires and Parlour on the wing,
When Kanu is heading for a goal,
I start to shout and sing.

Adams bounces balls back to where they belong,
With their tackles and passes, The opposition goes wrong.

I'll be at Highbury for every home game,
Trying to work out which players to name,
At half-time I go and get a drink,
It's still 0-0 so my heart begins to sink.

I soon perk up when we're winning 4-0,
The gap to Man. United we are trying to fill,
The full-time whistle is music to my ears,
I stand up to clap and cheer.

We will be winning the League when the time comes near,
If not this year,
Maybe the next three !
--Kuan Yew--
&nbsp &nbsp If you are a fan of Arsenal FC and would like to know about the recent updates on my website, just drop a line at kuan_yew@yahoo.com or champion80@hotmail.com. Your views and opinions on my website are most welcome.

This Page Is Published And Maintained By Wong Kuan Yew
Copyright © 2000 Wong Kuan Yew. All Rights Reserved.
Last Updated: