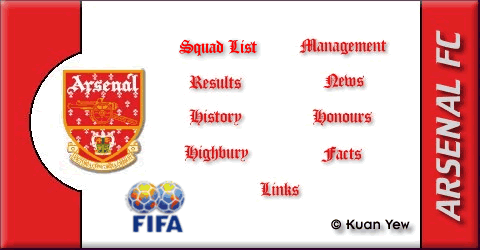 [Arsenal FC] [Squad List] [Latest Results] [Club History] [Highbury] [Management] [Latest News] [Club Honours] [Club Facts] [AFC Links]

1886 "Royal Arsenal" is Born

Everything started at around October 1886, 114 years ago. The arrival of Fred Beardsley and Morris Bates was the catalyst that David Danskin from Kirkcaldy needed to start a football team at the Woolwich Arsenal. Fifteen players signed up, and they all contributed towards the purchase of their first football. Dial Square was chosen as the name of the team.

Their first game was against a team called Eastern Wanderers on 11th December 1886. Apparently the pitch where they played on was shapeless with one portion being described as a ditch by some and as an open sewer by others. Still, Dial Square won the game 6-0. This result filled the players with enthusiasm and resulted in a meeting at the Royal Oak, next to Woolwich Arsenal Station, on Christmas Day 1886.

Three major problems were stated in that meeting. The problems were, a shortage of name, kit and somewhere to play. Actually, no one was happy with the name Dial Square, and it resulted in the regal sounding name of Royal Arsenal which was met by approval from all. The decision for choice of kit was easy, Nottingham Forest was asked for help. Forest generously sent the team a complete set of red shirts and a ball. Plumstead Common was chosen as the home venue on that fateful Christmas day.
1888 Royal Arsenal move from Plumstead Common to Manor Field

Manor Field was re-named Manor Ground for purposes of grandness!
1890 Royal Arsenal win their first trophies!

The Kent Senior Cup, the Kent Junior Cup, and more significantly, the London Charity Cup was won by Royal Arsenal. The latter was a comfortable 3-1 win over Old Westminsters at the Manor Ground in front of 10,000 people.
1891 Royal Arsenal move again

After the successes of 1890, Royal Arsenal decided to move to a new ground which already had a stand, terraces and dressing rooms - the Invicta, which was located just across Plumstead High Street.
1891 Name changed to "Woolwich Arsenal"
1896 Record Defeat!

Woolwich Arsenal suffer a 8-0 defeat at the hands of Loughborough Town.
1900 Record Victory!

Woolwich Arsenal got their revenge by thrashing Loughborough Town 12-0.
1904 Woolwich Arsenal Promoted!

Harry Bradshaw arrived as manager in 1901 which resulted in a 4th placing, followed by a 3rd, and lastly a 2nd in 1904 helping Woolwich Arsenal gain promotion to the Football League's First Division.
1913 Woolwich Arsenal Are Highbury bound....

Woolwich Arsenal were relegated after only winning three games all season. In the end though, Woolwich Arsenal paid a massive £20,000 for a 21-year lease and agreed not to stage any matches on Good Friday and Christmas Day (these restrictions were lifted in 1925 when the club paid another £64,000 to buy the whole site). The following year, serious work started on the ground. The pitch was levelled (the north end had to be raised eleven feet, the south lowered five), a new grandstand was partially built and turnstiles and terracing installed. It cost Woolwich Arsenal another £80,000. Cash at the time though was so short that the builder agreed to take a percentage of the gate money until he was paid for his work.
1914 "Arsenal"

Name changes from "Woolwich Arsenal" to "Arsenal"
1919 Promotion Again!

Henry Norris engineers Arsenal gain promotion to Division 1 at the expense of Tottenham Hotspurs despite the fact that they finished 5th in Division 2!

In 1919, the Football League decided to extend the First Division from 20 to 22 clubs. The usual procedure had been to simply re-elect the bottom clubs from the previous season and to promote the top clubs from the Second Division. This happened just after the First World War. By chance, two other London clubs, Chelsea and Tottenham had finished 19th and 20th in the First Division in 1915, with Arsenal finishing 5th in the Second. When the League's AGM was convened, Norris's strategy became clear. It must have been agreed upon with League President John McKenna, a close friend of Norris and the owner of Liverpool in advance (Manchester United came 17th in Division 1 after rigging their last game (2-0) against Liverpool to finish above Chelsea).

Firstly, Chelsea were detached from Tottenham and their position taken separately. There was no vote, and the fact that Chelsea would have finished third from bottom in 1915 had Liverpool beaten United in the fixed match undoubtedly influenced the meeting. MeKenna proposed that they be re-elected on the nod and this was accepted. Then Derby and Preston, first and second in the Second Division in 1914-15, were elected into the First Division without debate. Then came the bombshell. McKenna made a brief speech recommending that Arsenal be given the remaining First Division place because of their service to the league and their longevity , particularly pointing out that Arsenal had been in the League 15 years longer than Tottenham.

To this day, it is impossible to explain what actually went on at that AGM. The arguments for Arsenal's promotion were complete nonsense. The committee took their vote, and Arsenal received 18 votes out of a possible 41, while Tottenham only received 8. Additionally, for many years there were rumours of significant amounts of money changing hands, but to this day, nothing has ever been proven. Hence, Arsenal were promoted from 5th place in the Second Division while neither 4th, or 3rd had a realistic chance in the vote, and Tottenham were relegated. From this moment on, it started a rivalry between the two clubs that has continued on ever since!
1925 Herbert Chapman becomes Arsenal's Manager

"The Athletic News" on May 11th 1925 carried an advertisement by Arsenal who was in search of a manager. Herbert Chapman has already been approached for the job. Henry Norris the Arsenal Chairman offered him £2,000 a year to take the job, easily the highest paid manager in the game at that time, and Chapman needed little persuading!

Some of Herbert's innovations included changing the "Gillespie Road" underground train station to "Arsenal". This was an amazing coup at the time, because it resulted in millions of tickets, maps and signage being changed and was actually a huge operation. To this day, Arsenal are the ONLY football team to have a station named after them. Herbert also advocated flood-lighting, artificial pitches and instigated placing numbers on players backs. He was further involved in placing nets behind the goal posts.
1930 Arsenal WIN the F.A. Cup Final for the first time

Saturday 26th April 1930. After 44 years, Arsenal finally achieved their first real success. It was the day that Arsenal wrote themselves into the record books. The 55th F.A. Cup Final saw Arsenal defeat Huddersfield Town (the team of the late 1920's) 2-0 in front of a capacity crowd of 92,488 with goals from Alex James and Jack Lambert. The Arsenal cup-winning team at that time was: Preedy, Parker, Hapgood, Baker, Seddon, John, Hulme, Jack, Lambert, James, Bastin. The game was also remembered for the vivid image of the airship Graf Zeppelin flying 2,000 feet above Wembley during the first half, and King George handing over the trophy.

The victory signalled the start of a period when Arsenal completely dominated English football and gained recognition worldwide during a remarkable era.

The Road to the First F.A. Cup
OPPOSITION
ROUND
VENUE
SCORE
SCORERS
Chelsea
3RD
Home
2-0
Lambert, Bastin
Birmingham City
4TH
Home
1-1
Jack
Birmingham City
(R)
Away
1-0
Baker
Middlesborough
5TH
Away
2-0
Lambert, Bastin
West Ham Utd
6TH
Away
3-0
Lambert(2), Bastin
Hull City
SF
Leeds
2-2
Jack, Bastin
Hull City
(R)
A.Villa
1-0
Jack
Huddersfield Town
FINAL
Wembley
2-0
Lambert, James
1931 Arsenal WIN the Football League Championship for the first time
1930-31 was a massive success for the Gunners from start to finish. Arsenal established a record of points earned at the time with 66 points, while they scored a remarkable 127 goals. They also beat Grimsby Town 9-1 at Highbury (It was their biggest margin of victory in the First Division). They only lost four games, and had an identical home and away record of 14 wins, 5 draws and 2 defeats. Jack Lambert also set up an Arsenal record of 38 League goals in a season.

Champions
P
W
D
L
A
PTS
Arsenal
42
28
10
4
127
59
66
1932 Arsenal open new West Stand
The West Stand cost £45,000 and was officially opened by the Prince of Wales on December 10th 1932. It was first used on November 12th for a game against Chelsea, which Arsenal promptly won 1-0 and was, by a large margin, the grandest and most expensive structure on any league ground at the time. It incorporated three flats, an electronic lift, and had 4,100 seats and the lower level, which was originally all standing, could hold another 20,000.

While the West Stand was being built, a story that has become a bit of folklore at Highbury occurred. Local inhabitants were encouraged to bring along their rubbish to help in the process of raising up the banking on all four sides of the ground. One coal merchant backed up too close to the hole in the North Bank and saw his horse and cart disappear into the cavity. The animal was so badly injured that it had to be destroyed and it is buried where it fell, in the middle of the North Bank terracing. It was said to bring luck to the Arsenal side!
1933 Herbert Chapman's New Shirts

White sleeves were added to our red shirts to add distinction. This happened prior to the match against Liverpool.
1933 / 4 / 5 Arsenal win THREE consecutive Championships!

Arsenal were awarded a crest by the Football League for this achievement that still hangs outside the Directors' offices in Highbury's East Stand to this day. It was a glorious period and was only matched by a few teams later.
The Final Standings for the three glorious Football League Championship Winning years are as follows:

Champions
P
W
D
L
F
A
PTS
Arsenal
42
25
8
9
118
61
58
Arsenal
42
25
9
8
75
47
59
Arsenal
42
23
12
7
115
46
58
1934 / 5 Ted Drake breaks Arsenal scoring record
Ted Drake scored 42 League goals during the season breaking Jack Lambert's previous record of 38. He scored 4 goals against Birmingham, Chelsea, Wolverhampton and Middlesborough. His hat-tricks came against Liverpool, Tottenham and Leicester City. He also scored 1 goal in the F.A. Cup. against Brighton & Hove Albion and 1 goal against Manchester City in a 4-0 Charity Shield victory, bringing his season's total to 44 goals.
1935 Highbury Record Attendance

On March 9th 1935 Arsenal entertained Sunderland at Highbury. Unfortunately the 73,295 RECORD ATTENDANCE were more thrilled with the cramped conditions rather than the 0-0 score.
1935 Ted Drake scores 7!!

On December 14th 1935 Ted Drake scored all SEVEN goals in Arsenal's 7-1 victory against Aston Villa at Villa Park in Birmingham. The record still stands to this day as the greatest number of goals scored in a Football League First Division (Premier League) game by an individual player. For the first quarter hour Villa were the better team, but at half-time they were 3-0 down and Drake had a hat-trick. All the goals were scored in classic Arsenal style - a long ball from Pat Beasley for Drake to run on to, a long pass from Bastin which Drake picked up and ran with to the edge of the area before scoring, and a rebound from a Pat Beasley shot from the wing. At the end of an hour Drake had a double hat-trick and Arsenal were 6-0 up. This time the goals came from a mistake from Villa's centre half Tommy Griffiths, who assumed a ball was going over the dead ball line only to see it rebound off the post for Drake, another pass from Bastin to Drake and an instant return from a bad goalkeeping clearance.

Drake was controlling the ball perfectly, beating defenders at will and shooting so accurately that the Villa goalkeeper, Merson, had no chance. It was the exhibition of a complete centre forward. By this time the entire Villa back line was marking Drake, but it made little difference when his seventh shot actually hit the bar and bounced down to be cleared. It was one of only two goal attempts of the whole afternoon which missed it's mark (the other was saved). Villa did score once, but Drake had the final word in the last minute with yet another classic strike from an inch-perfect cross-field pass by Bastin, seven goals away from homein just nine attempted shots. What a finish that was by Ted Drake!
1936 Arsenal WIN the F.A. Cup Final for the second time

Saturday 25th April 1936. Arsenal defeated Sheffield United 1-0 at Wembley with a goal from Ted Drake in the 74th minute after a Cliff Bastin's clearance. Drake was unable to get off the floor after scoring the goal due to pain from his injured knee. When he finally got up, he remained on the field without actually taking part in the remainder of the game. The team for the Cup Final was: Wilson, Male, Hapgood, Crayston, Roberts, Copping, Hulme, Bowden, Drake, James and Bastin.

Incidentally, Arsenal had previously been fined £250 by the Football League for resting players (Roberts and Drake) and fielding a less competitive team between F.A. Cup ties after Arsenal found out that they were unable to win the First Division for the 4th consecutive time.

The Road to the Second F.A. Cup
OPPOSITION
ROUND
VENUE
SCORE
SCORERS
Bristol Rovers
3RD
Away
5-1
Bastin(2), Drake(2), Bowden
Liverpool
4TH
Away
2-0
Bastin, Hulme
Newcastle United
5TH
Away
3-3
Bowden(2), Hulme
Newcastle United
(R)
Home
3-0
Bastin(2), Beasley
Barnsley
6TH
Home
4-1
Beasley(2), Bastin, Bowden
Grimsby Town
SF
Huddersfield
1-0
Bastin
Sheffield United
FINAL
Wembley
1-0
Drake
1936 Arsenal open new East Stand
The new East Stand was officially opened for the game against Grimsby on October 24th 1936. The main stand, though it was earlier planned to be identical to the West Stand, cost far more (£130,000). This was because it had an expensive public frontage - the West Stand is built almost entirely behind a row of houses and is effectively invisible from that side.
1938 The First Division Championship Returns to Highbury

The First Division Championship returned to Highbury for the 5th time in 8 years. If you add the two F.A. Cups which Arsenal won in 1930 and 1936, in added to an incredible 7 trophies won in the space of 9 years. The final points tally of 52 points was the lowest ever by a Championship winning team in a 42 game season!

Once again, Ted Drake was the highest scorer with 17 goals despite missing 15 league games through injury, while Cliff Bastin contributed 15 goals. This Championship signalled the end of a truly remarkable era when Arsenal was the most recognised football team in the world!!

The final table for 1937/8 was:

Champions
P
W
D
L
F
A
PTS
Arsenal
42
21
10
11
77
44
52
1939 Hollywood comes to North London?!
The last game at Highbury before the Second World War was against Brentford on May 6th 1939 and Arsenal won that match 2-0 with goals from Alf Kirchen and Ted Drake, but it was MORE noted for the fact that it was used to make the film "The Arsenal Stadium Mystery". Brentford in an unusual change strip, played the fictional part of "The Trojans" and several Arsenal personalities took part in the film, including Cliff Bastin, Tom Whittaker and George Allison.
1939 - 45 World War 2 Claims 9 Arsenal Players....

The Second World War was a tragic time for the heavily bombed Highbury. 9 of the 42 professionals on Arsenal's books in 1939 failed to survive it, the highest loss of players in any one club. The nine players to lose their lives were, Henry Cook, Bobby Daniel, William Dean, Hugh Glass, Leslie Lack, William Parr, Sidney Pugh, Herbie Roberts and Cyril Tooze. Deepest condolence to those who died in this devastating war.

This Page Is Published And Maintained By Wong Kuan Yew
Copyright © 2000 Wong Kuan Yew. All Rights Reserved.
Last Updated: