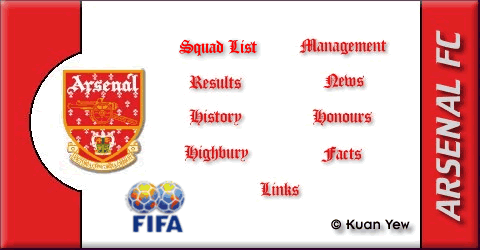 [Arsenal FC] [Squad List] [Latest Results] [Club History] [Highbury] [Management] [Latest News] [Club Honours] [Club Facts] [AFC Links]

1972 Arsenal reach their 5th Cup Final in 5 years

After the crowning glory of the 1970-71 season, 1972 can only be described as a huge disappointment. Achieving success is only half the battle whereas living with the difficulties that the success created is another matter altogether.

A month after the "Double" was won, North London was alive with rumours of a split in the camp which was believed to be rock solid. Influential coach, Don Howe left Arsenal for West Bromwich Albion on July 8th 1972 . John Sammels was transfered to Leicester City for £100,000. These moves combined with inconsistent performances from Simpson, George and Storey resulted in Arsenal only finishing fifth in the league.

The F.A. Cup remained Arsenal's only hope of salvaging their battered pride, and their fifth Cup Final in five years was the only reminder of the previous season. The final against Leeds United was a drab affair. The goal when it finally came near the end of the game was scored by Allan Clarke with a diving header that powerfully beat both Wilson and Barnett in the Gunners defence. Arsenal finished the season in fifth place with 52 points. The "Double" had become history, and in the following years the team that had showed so much potential to succeed slowly disintegrated as disgruntled players went their separate ways. Over the next four years Arsenal reached their lowest performance since the days of Billy Wright's 10 years before culminating with a lowly position of 17th place at the end of season 1975-76.
1978 Ipswich Town spoil Arsenal's revival.

Terry Neill's second season in charge included the additions of Pat Jennings, Willie Young, Alan Hudson and Alan Sunderland producing a team with huge potential. Neill's second season saw Arsenal climb to fifth position in the league and ended with another visit to Wembley. Jennings was in fact a major coup when Spurs thought that they were unloading an old player for only a meagre £40,000. Nevertheless, the Northern Ireland internationall went on and played over 300 games for Arsenal!

Arsenal were instilled as firm favourites for the Cup game, and this should have been an indication of what was to come. Arsenal have always excelled in conditions of adversity, unfortunately May 6th 1978 was not one of those occasions. A solitary goal by Roger Osborne was the lowest point of a forgettable game. Arsenal's official excuse was that they had a number of injuries to key players such as, Alan Sunderland (broken bone in foot), Rice, Nelson and Young (knocks), Macdonald (surgery on his right knee)! There were only more excuses. The only saving grace was Terry Neill's parting promise that Arsenal would be back next year. Macdonald unfortunately had a knee operation three days after the Cup final, it was unsuccessful and a series of operations followed that ended his career at the age of only 29. He had visited Wembley on three occasions (twice with Newcastle) and had three losers medals to show for his efforts.
1979 Arsenal CRUSH Manchester Utd in the F.A. Cup Final of the Century!
The 1978-79 season will remain in EVERY Arsenal supporters memory for one game. It was unforgettable, one of the best goals (by Brady) was scored on this day. The date was December 23rd 1978, the venue was at White Hart Lane, the opposition was Tottenham Hotspur and the result was a complete Spurs whitewash, with Alan Sunderland scoring a hat-trick, Frank Stapleton scoring from an exquisite cross from Brady and Brady himself added to the tally with a sizzling thunderbolt from the edge of the area! Arsenal were more than triumphant on this day as they thrashed their North London derby rivals, 5-0!

The season will also be remembered for our epic battle against Sheffield Wednesday in the 3rd round of the FA Cup, and a Cup Final victory against Manchester United that had people engrossed in an epic five minute climax.

The Winter of 1978-9 was bitterly cold and Arsenal were one of a few clubs to continue to play due to their undersoil heating system. In the third round of the FA Cup Arsenal had to face Sheffield Wednesday, who were in the Third Division. Arsenal were held to a 1-1 draw at Hillsborough in the first game. As for the replay, Arsenal came from behind with a Brady goal salvaging another draw. For the 2nd replay a neutral ground had to be chosen. As half the country was completely frozen, Filbert Street (Leicester City's ground) was chosen as the venue. The game produced another amazing 2-2 draw on a bitterly cold Tuesday night. The two teams had to return two days later for another bitterly cold Thursday night and played out a thrilling 3-3 draw. Both teams looked exactly like draw specialists at the moment! Five days later the teams met for a record 5th time to finish the business which could have been done in one match. This time however, goals by Frank Stapleton and Steve Gatting finally ended the bold resistance of the Third Division side. In all, a total of 143,996 fans plus television audiences had been enthralled by 540 minutes of classic cup action. Remarkably, Arsenal had also played a single first division game during all the replays and had enough strength to win it 2-1 (Nottingham Forest). Arsenal made light work of the following round with a 2-0 victory against Notts County, the 5th round however produced a one sided torrent of action.

The City Ground (Nottingham Forest) at the time was a very difficult place to get a decent result. Under Brian Clough, they had produced a resurgence and were playing their 52nd game of an incredible 51 match unbeaten home run. Arsenal were lucky to catch them on a night where they faltered in a match which they dominated. Forest spent almost the entire game in the Arsenal half, they hit the bar, the post, Pat Jennings, each other...etc Well it was nearly everything other than the back of Arsenal's net. The Arsenal players would have been more pleased with a draw when a free kick was awarded just outside the Forest penalty area late in the game. It was one of very few occasions when Arsenal had crossed the half way line. The free kick was taken, Stapleton did the impossible and scored. Nottingham Forest were forced to say goodbye to both the F.A. Cup and their record breaking unbeaten home run.

On a hot and stifling day, with Brian Talbot running his heart out in midfield, and Brady and Stapleton looking like world class players, the Cup looked won with joint effort from Sunderland and Talbot - they arrived at the same time for a shot though the goal which was later given to Talbot - and Stapleton's fine header. But with five minutes left the game was transformed by two scrappy goals by McQueen and McIlroy for Manchester united. When Brady took the ball deep into United's half from the second kick-off, his only thought was to keep possession and hope for extra time, so were United. But Graham Rix had summoned up enough energy within him for a marvellous run, took Brady's pass and slung over a perfect cross to the far post for Alan Sunderland to slide the ball in for the winner ("There's a minute left on the clock, Brady for Arsenal...right across, Sunderland...It's there, I do not believe it, I swear I do not believe it!" - sport commentator). There was no time for United to come back again, Arsenal had done the impossible again! Once again, they had provided themselves a mountain to climb, and achieved glory. The victory meant that Brian Talbot had become only the second player in FA Cup history to win back to back Cup winners' medals with different clubs.

The Road to the Fifth F.A. Cup
OPPOSITION
ROUND
VENUE
SCORE
SCORERS
Sheffield Wednesday
3RD
Away
1-1
Sunderland
Sheffield Wednesday
(R)
Home
1-1
Brady
Sheffield Wednesday
(R)
Filbert Street
2-2
Sunderland, Brady
Sheffield Wednesday
(R)
Filbert Street
3-3
Stapleton(2), Young
Sheffield Wednesday
(R)
Filbert Street
2-0
Stapleton, Gatting
Notts County
4TH
Home
2-0
Talbot, Price
Nottingham Forest
5TH
Away
1-0
Stapleton
Southampton
6TH
Away
1-1
Price
Southampton
(R)
Home
2-0
Sunderland(2)
Wolves
SF
Villa Park
2-0
Stapleton, Sunderland
Manchester United
FINAL
Wembley
3-2
Sunderland, Stapleton, Talbot
1980 Success brings 70 games in a season
Arsenal started the season on a losing note, a comprehensive 3-1 defeat at the hands of Liverpool in the Charity Shield. Little did the Gunners knew at the time, that Arsenal would proceed from that defeat to a record third successive FA Cup Final, a European Cup Winners Cup Final, the quarter-finals of the League Cup and a UEFA Cup place for the following season if they won their last game.

Potentially, the 79-80 season were as good as things could get! The strain however of playing 70 games in less than 9 months took it's huge toll. The team had a solidity about it that produced 16 drawn games in the league. The striking partnership of Frank Stapleton and Alan Sunderland produced a remarkable 28 goals between them, it was a good partnership, but not earth-shattering. Only once during the whole League season did Arsenal manage to score more than three goals, and that was on the opening day of the season away to Brighton & Hove Albion (Sunderland 2, Stapleton, Brady). The Cups however were another matter altogether. Leeds United were crushed 7-0 in a second round League Cup replay at Highbury (Sunderland 3, Brady 2, Stapleton, Nelson) and Brighton were once again dealt a 4-0 drubbing in the 4th round (Stapleton 2, Vaessen 2). In the Cup Winners Cup, IFK Gothenburg were going to have to climb the Everest if they were to progress to the Semi-Finals after Arsenal beat them 5-1 in the first leg of the Quarter-Final (Sunderland 2, Brady, Price, Young). Two games however will be etched in the memories of Arsenal supporters for the huge disappointment that they caused us. Here's some highlights before we get into those dissapoinments.

The first was the FA Cup Semi-Final against Liverpool (defending League Champions, team of the 70's and was well on their way to another Championship). The Semi-Final was an epic that took four games, a titanic struggle, and the prophetic blood sweat and tears to win. The third game produced a goal for Arsenal in just 13 seconds by Alan Sunderland (the fastest ever Semi-Final goal). The battle of the titans was finally settled with the third replay at Highfield Road when Talbot scored a lone goal early in the first half. The four games (longest ever FA Cup Semi-Final) had amassed a total of 169,163 supporters and Arsenal had proven that they were more than a match for anyone on their day. Reminiscence of the game against Sheffield Wednesday?

The second highlight was in the Semi-Finals of the European Cup Winners Cup. Arsenal were drawn against the mighty 'Grand Old Lady', Juventus. The first game at Highbury produced a thrilling 1-1 draw. This meant that we had to visit Delle Alpi Stadium (Turin) knowing that only a win or a higher scoring draw would see us through to the final. The task for Arsenal was monumental. In 25 years of European Cup competition, Juventus had never been beaten by a British club on home soil for the last decade, they hadn't been beaten by any European Club either. With just two minutes of the game remaining Arsenal were facing an exit from the competition on the away goals rule when Paul Vaessen popped up at the far post to score the historic, record-breaking winner. Paul had come on as replacement for Price. It was a goal that silenced a stadium and put Arsenal into the Final against Valencia. Unfortunately, it was also the only highlight of a relatively short career for Vaessen as he would have his career cut short by a serious knee injury within two years of that game at the age of 20!

The FA Cup Final against unfancied Second Division West Ham turned out to be another one of those days when Arsenal really should have stayed in bed. Finals against lower division clubs seem to be a constant thorn in Arsenal's side. A single goal by Trevor Brooking (a rare header) saw the Cup go to East London rather than North London. The only high point of the game was when Willie Young with only 3 minutes to go cut down Paul Allen blatantly as he was looking good to score. It was a cruel, crude tackle which was clearly meant not to stop the progress of the ball, but to make sure Allan didn't score, in fact, it showed all the frustration that every Arsenal supporter felt on the day.

The European Cup Winners Cup Final was a completely different story to the FA Cup Final. Arsenal played well during a goalless 120 minutes. They never looked second best to Valencia, and frankly should have won the game in normal time. Both defences however held out, as the minutes ticked their way towards a penalty shoot-out. Both Mario Kempes and Liam Brady failed to score from their respective spot kicks. from then on, both teams scored. With the penalty score at 4-5 up stepped Arsenal's sixth penalty taken Graham Rix. Goalkeeper Carlos Pereira had been moving before the penalty taker kicked through all the previous kicks, and did so again. The ground came to a moment of silence as Rix stepped up and tried to place a weak shot. Pereira guessed correctly and dived to his left saving the shot. The crowd roared as the television cameras focused in on a crushed and dishevelled Graham Rix as tears filled his eyes and he realized the enormity of his error. The season was not over yet for Arsenal though. They still had two league games to go. If they won them both they would at least qualify for a UEFA Cup place for the next season. Three days later they travelled to Wolverhampton and somehow came away with a 2-1 victory (Stapleton, Walford). They had no time to rest though because the following Monday night saw them play their 17th game from the beginning of April including three which resulted in extra time needed. Unfortunately the Gunners ran out of steam as Middlesborough ran out 5-0 winners scoring more in one game than Liverpool, West Ham and Valencia had in six. Arsenal finished up with nothing when the potential was there for their best ever season.
1981 The Arsenal exodus begins!

After the shattering disappointment of the 1979-80 season a period of apathy seemed to descend upon Highbury. Frank Stapleton and Liam Brady moved on to Manchester United and Juventus respectively. Hawley, Chapman and Hankin moved in but they were by far not suitable replacements for those who left. Kenny Sansom seemed to be the only purchase of any value, and he came to Arsenal in what seemed like mysterious circumstance. Clive Allen was bought for a record £1,250,000 during the 80-81 off season, and without playing a single competitive game for the Gunners eight weeks later a deal seemed to be struck for a swap (with Paul Barron thrown in) for Crystal Palace's talented left back. Arsenal did manage to end the season in 3rd place, but attendances dropped off and everything seemed bleak.
1982 Denis Hill-Wood passes away

Arsenal Chairman Denis Hill-Wood, much beloved and respected throughout the game died aged 76. Denis was the backbone of Arsenal for so many years. He had taken over as Arsenal Chairman from his father 22 years earlier and a long family tradition was continued when the Chairmanship passed on to his son Peter.
1986 George Graham takes over the hot seat and a new era begins

Howe's problems were much the same as those of Terry Neill's - he couldn't quite crack the goalscoring problem Arsenal faced. On March 22nd 1986, after Arsenal had beaten Coventry City 3-0 and despite it being a fourth consecutive League win, Don Howe asked to be released from his contract. He had heard a rumour that Arsenal were considering signing Terry Venables if he were to be released from Barcelona.

History of course tells us that Terry Venables did not become Arsenal Manager, that role was actually filled by none other that the 1970-71 FA Cup Final Man-of-the-Match George Graham. Graham proved to be just the right man for the job at the right time. Graham did not spend any money straight away in establishing his own squad of players. He placed priority on defence. The last line of defence included Anderson, Sansom, Adams and O'Leary, all International regulars. On September 27th 1986 Arsenal lost to Nottingham Forest 1-0, defeat was not to be an issue again until January 24th 1987. 22 games unbeaten, a new Arsenal record. During that period they won 17 and drew 5 games scoring 47 goals and conceding only 11. Graham's defensive team had produced one of the most remarkable run in the League.
1986 Our Centenary Year brings Arsenal a First League Cup triumph

1986-87 will always be famous for three things, the first was the signing of George Graham, the second was the Centenary, the third was the saying, "One-nil down, Two-one up, that's how Arsenal won the Cup, la la la la la la la la la!". Which was to be the best description of Graham's Arsenal side. The nicest thing about this is that it happened on three occasions in our Littlewoods Cup (League Cup) winning run.

The Semi-Final against long time rivals Tottenham Hotspur proved to be a demonstration of resilience and the difference between the Arsenal's of both Neill and Howe and the New Arsenal that Graham created. They had a "never-say-die" attitude. Graham instilled the somewhat new belief that the game should be played for the full 90 minutes with equal gusto. The first leg of the Semi-Final was at home to Tottenham. Tottenham went away 1-0 victors with a goal by Clive Allen. The second leg at White Hart Lane looked to be going the same way when after 38 minutes Clive Allen once again popped up to put Arsenal 0-2 behind on aggregate. The second half of the second leg of the Littlewoods Cup Semi-Final was not only a peek at the NEW Arsenal, but the birth of a new era of success for the Gunners.

Arsenal came out for the second half and the talk that Graham had with the players produced its result immediately. Viv Anderson brought a well needed equalizer on the night. There was a new vibrancy about Arsenal as they continued to push forward. With time running out, Niall Quinn met a David Rocastle cross near the left hand post quite beautifully to make the score 2-1 forcing a third game (away goals were not recognised in the Littlewoods Cup). The referee tossed a coin at the end of the game for home advantage in the third tie, and incredibly it stuck upright in the mud. Tottenham won the second toss, and Arsenal were once again White Hart Lane bound. The third game was once again a nerve-wracking affair. For the third consecutive time Tottenham took the lead with Clive Allen scoring their goal. This time, Spurs held on for 82 minutes before they were pegged back by an Ian Allinson goal. Then, with only seconds remaining Arsenal pushed three men forward and reaped the reward as David Rocastle squeezed a shot underneath Ray Clemence's body silencing the Spurs supporters and sending the Arsenal fans into utter ecstasy and sheer joy.

Liverpool were installed as the overwhelming favourites for the Littlewoods Cup Final played on April 5th 1987, but once again, they played 'bridesmaid' as Arsenal lifted their first League Cup. Destiny seemed to lend a hand in the 23rd minute when Ian Rush scored for Liverpool. In his long career with the Reds, they had never lost when he had scored (almost 150 games). This Arsenal side however were undaunted by that fact. On the stroke of half-time Charlie Nicholas poked a goalmouth scramble home and Arsenal were level. Late goals seemed to be the flavour of the day, because 7 minutes from the end of full-time Perry Groves roared in from the left, leaving defenders behind him and pushed the ball to Nicholas. The "golden boy" shot rather weakly, but the ball took a peculiar spinning deflection that left Grobbelaar stranded as it meandered into the net.

George Graham said afterwards: "We have often played better; but the prize at the end made it one of Arsenal's most memorable performances. It's a dream start for me, but this is just the start."

The Road to the First League Cup
OPPOSITION
ROUND
VENUE
SCORE
SCORERS
Huddersfield Town
2ND-1
Home
2-0
Quinn, Davis
Huddersfield Town
2ND-2
Away
1-1
Hayes
Manchester City
3RD
Home
3-1
Rocastle, Davis, Hayes
Charlton Athletic
4TH
Home
2-0
Quinn, OG
Nottingham Forest
5TH
Home
2-0
Nicholas, Hayes
Tottenham Hotspurs
SF-1
Home
2-0
Tottenham Hotspurs
SF-2
Away
2-1
Quinn, Anderson
Tottenham Hotspurs
(R)
Away
2-1
Rocastle, Allinson
Liverpool
FINAL
Wembley
2-1
Nicholas(2)

This Page Is Published And Maintained By Wong Kuan Yew
Copyright © 2000 Wong Kuan Yew. All Rights Reserved.
Last Updated: