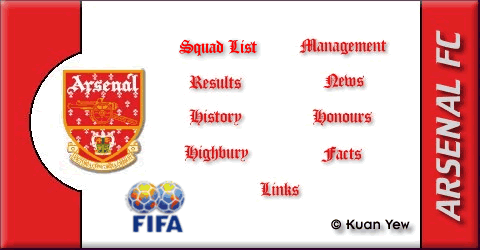 [Arsenal FC] [Squad List] [Latest Results] [Club History] [Highbury] [Management] [Latest News] [Club Honours] [Club Facts] [AFC Links]

1989 Tragedy strikes at Hillsborough

Though apparently unrelated to Arsenal, this history cannot be complete without mention of the tragedy that unfolded on the terraces at Hillsborough on the 15th April 1989. Liverpool were due to meet Nottingham Forest in an FA Cup Semi-Final at Sheffield Wednesday's ground. A day that should have been filled with the joys of football at its best was grotesquely turned on its head as 95 Liverpool supporters were crushed to their deaths at the Leppings Lane end of the ground prior to kick-off. As a supporter of football, I hope that this tragedy would never happen again, and I send my sincerest condolences to all the families and friends that that dreadful Saturday touched.
1989 "Liverpool be warned, the Championship is coming to North London this season, and you heard it on Capital Gold!"

These words were uttered on a bright Mayday Monday afternoon after Arsenal had demolished Norwich City (3rd on the league at the time) 5-0. Nothing was able to stop this rampaging run by Arsenal. There were still four games to go in a season that showed the world the highs and tragic lows of English football in what has been called "the most exciting title race ever!"

There were many games during the 1988-9 season that shone, the first of these came on August 27th 1988 on the opening day of the season. Arsenal had been drawn to play Wimbledon away, and were being quoted at 16-1 odds for the Championship, the odds were about to take a tumble. An away fixture to Wimbledon is never easy, and things looked like they were not going Arsenal's way when Fashanu scored after 7 minutes. Still, 83 minutes later the game ended, and Arsenal had scored five goals ( Smith 3, Merson, Winterburn) signalling to every team in the League that Arsenal were back with a vengeance and a force to be reckoned with. There was a new vibrancy about these Gunners, their defence was still far from rock solid, but they knew how to entertain (in fact, it wasn't until the 10th of December that they recorded their first goalless game, and even then it was probably due to a dubious penalty taken twice after Brian Marwood had scored at the first attempt and been recalled due to encroachment!).

By Christmas, Arsenal finally took the lead in the title race . They had scored five against Wimbledon, four against West Ham and Nottingham Forest, while they had put three past Tottenham, Middlesborough and Charlton. The season seemed to have so many highlights. The Nottingham Forest game was one that was viewed by the country as it went live on a Sunday afternoon. Nottingham Forest's early lead through Nigel Clough seemed to only anger a lethargic Arsenal as they flooded forward in attack. They seemed to do everything but score when Sutton (Forest's keeper) felled Marwood. Unfortunately Sutton redeemed himself, but the onslaught continued culminating with Smith equalizing after cleverly chipping the stranded Sutton from close in. The half-time score was 1-1, and Arsenal continued to press forward in the second half and were rewarded with goals from Bould, Adams and Marwood (from a wonderfully Winterburn pass). Add to that an Alan Smith shot that rattled the crossbar, and Arsenal added another comprehensive victory.

Mention also has to be made of two victories against our North London neighbours both Home (2-0 Merson and Thomas) and Away (3-2 Winterburn, Marwood, Smith) the three goals came in an action packed 9-minutes spell and sealed our 5th victory in a row at White Hart Lane.

February though saw chinks start to appear in the armour as points started going astray. The Gunners onslaught seemed to be petering out in the February weather. Queens Park Rangers and Millwall both fought out scoreless draws, while Coventry and Nottingham Forest proved to good for us on the day. Victories against Southampton (3-1), Everton (2-0), Newcastle(1-0), Norwich (5-0) and Middlesborough (1-0) kept us in the race though as Liverpool clawed their way back from a twelve point deficit to sit on our shoulders and then in May to take the lead. There was some "to and fro" exchange of places before our epic meeting on Friday May 26th 1989.

A rearranged fixture at Anfield was fortuitously scheduled to be the very last game of the 1988-9 season. The Football League had settled everything except the champions of the First Division. Liverpool had a goal difference that was 4 better than ours. The statistics showed that anything less than a 2-0 victory to Arsenal would see the title head north once again, while 2-0 or more would see the trophy nestling in the Marble Halls for the following season. There could be no more fitting place than Anfield to win the Championship, and on May 26th 1989 Anfield was a foreboding colosseum filled to the rafters (41,783) after Liverpool had won 10 home games straight in '89 and, had the added incentive of completing a second League and FA Cup double if the result went their way. All in all, whatever the result would be, the night would indeed be one to remember. Independent Television were also broadcasting the match live around the world and we watched on as Arsenal made what was thought to be almost impossible possible in a historic Championship season.

A tense first half remained goalless as Arsenal tried to take control of the game but were unable to make a breakthrough. George Graham told his team not to panic, at least they hadn't conceded anything, he told the players to stick to his game-plan and hopefully the rewards would come. So into the second half. Arsenal needed an early breakthrough, and after 52 minutes it looked like we had done it. Amidst what seemed like huge controversy at the time, Alan Smith set Arsenal on their way when he headed Nigel Winterburn's perfect cross just inside Bruce Grobbelaar's far post after Ronnie Whellan had raised his feet dangerously in the face of an on-the-ball David Rocastle. The Liverpool players besieged the referee claiming that Smith had not got a touch to the ball and that the indirect free-kick had been put straight into the net by Winterburn. The referee consulted with his linesman for what seemed like an eternity before he finally pointed towards the centre-spot to confirm that the goal was indeed fair and square. The Liverpool supporters chants of, "We're gonna win the league" were silenced as they realised that the game was now on a knife-edge. One more goal from Arsenal would seal the title while a goal for Liverpool would see them steal it from under our noses.

The game took on a whole new complexion as Arsenal concentrated almost solely on attack whilst Liverpool seemed to be more concerned with defending and trying to catch us on the break rather than winning. This tactic was indeed to be their downfall. With minutes ticking away Liverpool became more and more assured of defeat by a single goal on the night and eventually victory in the Championship. All seemed lost when Michael Thomas missed a fairly easy chance with about 15 minutes left. The commentators on the television were discussing how Arsenal had played with, "so much passion and drive", and how fitting it was that we had won at Anfield even though it meant that we would not win the League. I remember Brian Moore's answer to that little comment being that it would probably mean nothing to us, and oh how right he was..... The game continued with Arsenal pressing for the second goal, and time began to ebb away much to the dismay of the Arsenal fans but to the delight of the Liverpool supporters. After 88 minutes and 43 seconds, the game stopped as Kevin Richardson needed treatment, Gary Lewin ran onto the pitch to tend to him, and the Liverpool players began congratulating each other. The Liverpool supporters started chanting "CHAMPIONS, CHAMPIONS" as the clock ticked its way past the 90 minute mark. Steve McMahon got word from the bench that there was only one minute left and informed his players of the fact (chants of "one minute, one minute" continued to taunt him for many a year afterwards). Finally, after 90 minutes and 27 seconds the game resumed. Brian Moore continued to commentate, "Just a few seconds more for Kenny Dalglish unless Arsenal can mount something absolutely spectacular in the few seconds that remain."

Then, with 91 minutes and 22 seconds of the game played, Michael Thomas wrote his name into the history books as the player who scored the winner in the 1988-89 Championship race. Dixon passed the ball upfield to Alan Smith, Smith flicked it on into Thomas's path. The ball bobbled as he ran into the area and calmly, oh so calmly chipped the ball over a diving Grobbelaar as Liverpool lost by two goals at home for the first time since 1986. The Arsenal players, bench and supporters went wild as the the jubilation set in. Arsenal had won their first Championship since 1970-71 and their 9th in all. North London erupted as street parties began and the news media was filled with glorious images of red and white. The impossible became possible as Arsenal showed that they shine under adverse conditions.

Champions
P
W
D
L
F
A
PTS
Arsenal
38
22
10
6
73
36
76
Liverpool
38
22
10
6
65
28
76
1990 Arsenal give points away to give the rest of the League a chance!
The 1990/91 Season was one where Arsenal showed their true character and triumphed over adversity. They had two points deducted by the FA for a "brawl" at Old Trafford, and had team captain Tony Adams imprisoned for drunk-driving for four months the week before Christmas. Arsenal's reply to all these was to score 74 goals, concede only 18 and finish the season with only one defeat. All this culminated with Arsenal being crowned First Division Champions for the 10th time in their history. Once again, a championship season opened with an away game at Wimbledon. Arsenal won the game 3-0 with goals from Paul Merson, Perry Groves, and an own goal from Keith Curle. Arsenal continued grinding out results, but didn't really achieve anything spectacular until Chelsea visited Highbury in late September. Chelsea were duly dispatched having been beaten 4-1 with goals from Limpar, Dixon, Merson and David Rocastle. On the day, Arsenal were scintillating, and a sun drenched and filled Highbury saw the first real signs that this was a team that would once again regain the title and also play the sort of entertaining and imaginative football that makes us all proud.

The next game of real significance came on Saturday 20th October. Arsenal travelled to Old Trafford. Victories away to Manchester United were in general few and far between. Manchester United were never easy to beat, but it was more the way the game was won than the opposition on the day that made it stand out. For the first 40 minutes of the game, Arsenal soaked up the pressure that Manchester United could throw at them. Then, in the 40th minute came a moment of sheer brilliance as Anders Limpar deceived the Manchester United goalkeeper (Les Sealey) by shooting from an acute angle when all expected him to cross. The ball went just over the line, and even though Sealey parried it out the referee gave the goal. The second half was as toughly contested as any game I have ever seen, when a tackle turned into a revenge lunge, which proceeded into an on-field brawl. 21 of the 22 players were involved in the tussle with the exception of David Seaman in the Arsenal goal!. The game finished 1-0 to Arsenal, but the repercussions would continue well after the final whistle. Arsenal fined Winterburn, Limpar, Rocastle, Davies and George Graham two weeks wages in a preemptive move ahead of the FA Commission that had been called to report on the brawl. The fines however were ignored as the 5 man commission deliberated, and then deducted 2 points from Arsenal and 1 from Manchester United (Arsenal were deducted the extra point due to a skirmish the previous season against Norwich City). Additionally, both clubs were fined £50,000.

So, on the Saturday after the points were deducted Arsenal played host to Southampton, and both their resolve and determination were tested. Southampton left Highbury wishing that the league computer had chosen a different day for the fixture after Arsenal comprehensively outplayed them, winning 4-0 on the day with goals from Smith (2), Merson and Limpar. This was followed by a gritty 3-1 victory against QPR (Rangers took the lead and Arsenal scored three late goals in a "come from behind" thriller) and then, possibly the most significant game of the season. On Wednesday November 28th Arsenal faced Manchester United in the 4th Round of the Rumbelows Cup (League Cup). Arsenal were undefeated in all competitions up to this point, and had only conceded 6 goals in 14 league appearances and 1 goal in three Rumbelows Cup matches. Their confidence could only be on a high after such a wonderful start to the season, but on the night they were "ripped to pieces" in a stunning 6-2 defeat. Lee Sharpe scored 3 goals, and everything United touched turned to gold/goal.

Arsenal had a couple of options after that game, they could be demoralised, or they could learn from their mistakes and use them as a catalyst for the remainder of the season. They did the latter. Four days later on December 2nd Arsenal met reigning champions Liverpool at Highbury. Liverpool led Arsenal in the league by 38 points to 32 at the start of play and their display confirmed the resolve of the team. Arsenal turned on the style with an emphatic 3-0 victory (Merson, Dixon (pen) and Smith).

The start of 91 saw us progress in the FA Cup and maintain our unbeaten run in the League. Our 24th league game of the season was against Chelsea at Stamford Bridge. There were 7 London teams in the league in the 1990/91 season (Arsenal, Chelsea, Crystal Palace, Luton Town, QPR, Tottenham, Wimbledon), so sooner or later one of the "local derbies" was "odds-on" to prove our downfall. We lost the game 2-1, and the Arsenal resolve was to be tested again.

February to April saw Arsenal once again create and maintain an unbeaten run with impressive victories against Crystal Palace (4-0), Leeds United (2-0), Derby (2-0), Aston Villa (5-0) Sheffield United (2-0) and a second victory against defending champions Liverpool (1-0). During the same period Arsenal progressed to the Semi-Final of the FA Cup with an epic victory against Leeds United which took 4 games, Shrewsbury and Cambridge. Our Semi-Final against bitter rivals Tottenham was to bring a Wembley appearance and a 3-1 defeat silenced the growing talk of a never before double "Double". Unfortunately Arsenal simply didn't perform on the day, and Tottenham were the worthy winners.

Arsenal maintained their momentum in the league however, and moved ahead of Liverpool in the Championship race. On May 6th, Liverpool were drawn to play against Nottingham Forest in a morning kick off (they were 4 points behind Arsenal at the start of play with both teams having just two games left), and Arsenal played host to Manchester United in the afternoon. If Liverpool failed to beat Forest, Arsenal would be be crowned Champions prior to a ball being kicked in the afternoon. Liverpool lost the game 2-1, and the party atmosphere for 42,229 ensued for the United game with Arsenal taking the pitch as League Champions elect. Arsenal won the game 3-1 with Alan Smith scoring a hat-trick. Unfortunately we conceded a goal that stopped David Seaman from equaling Ray Clemence's record of conceding only 16 goals in a season, but the atmosphere remained "electric". The final game of the season saw Alan Smith score a goal that secured the golden boot for him in a 6-1 victory romp against Coventry City.

Arsenal had proven that they were not a "one-hit-wonder" with their Championship victory in 1989, and had done so by losing only one game all season despite having two points deducted by the league.

Champions
P
W
D
L
F
A
PTS
Arsenal
38
24
13
1
74
18
85
1993 Arsenal create history by becoming the first team to win both domestic cup competitions!
An opening day 4-2 defeat at the hands of Norwich City was a good enough insight on our league performances for the season. Arsenal showed little consistency in the competition. On occasions our defence could "shut-up-shop", but the season contained innumerable 1-0 victories, 0-1 defeats and the ever dreaded 0-0's. We finished in 10th position in what would under normal circumstances have been an incredibly forgetable season.

Our form in the two domestic Cup competitions however was to render the season far from forgetable. For the first time in English FA history, one team would win both the FA Cup and the Rumbelows Cup (League Cup) in the same year. Ironically, Arsenal would beat the same team (Sheffield Wednesday) in both competitions by the same score (2-1). Talk about being hit in the face twice!

The Road to the Sixth F.A. Cup
OPPOSITION
ROUND
VENUE
SCORE
SCORERS
Yeovil Town
3RD
Away
3-1
Wright 3
Leeds United
4TH
Home
2-2
Merson, Parlour
Leeds United
4TH Replay
Away
3-2
Wright 2, Smith
Nottingham Forest
5TH
Home
2-0
Wright 2
Ipswich Town
6TH
Away
4-2
Wright (pen), Adams, Campbell, OG
Tottenham
Semi-Final
Wembley
1-0
Adams
Sheffield Wednesday
Final
Wembley
1-1
Wright
Sheffield Wednesday
Final Replay
Wembley
2-1
Wright, Linigham
The Road to the Second League Cup
OPPOSITION
ROUND
VENUE
SCORE
SCORERS
Millwall
2ND
Home
1-1
Campbell
Millwall
2ND
Away
1-1
Campbell
(Arsenal won 3-1 on penalties)
Derby County
3RD
Away
1-1
Campbell
Derby County
3RD (R)
Home
2-1
Campbell, Wright
Scarborough
4TH
Away
1-0
Winterburn
Nottingham Forest
5ND
Home
2-0
Wright 2
Crystal Palace
Semi-Final
Away
3-1
Smith 2, Wright (pen)
Crystal Palace
Semi-Final
Home
2-0
Wright, Linighan
Sheffield Wednesday
Final
Wembley
2-1
Smith, Morrow

This Page Is Published And Maintained By Wong Kuan Yew
Copyright © 2000 Wong Kuan Yew. All Rights Reserved.
Last Updated: